Prometheus Server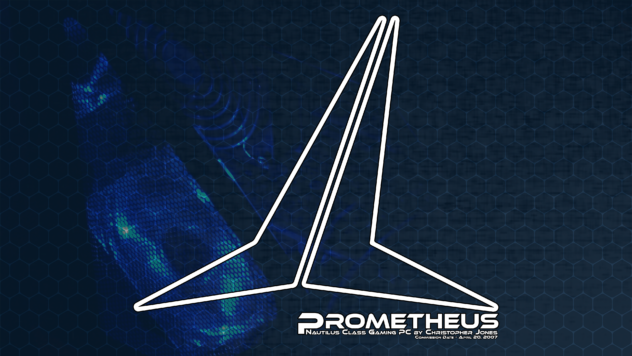 Processor – Intel Core2 Quad Q6600 Overclocked to 3.6GHz (400 x 9)
RAM – 8GB G.Skill DDR2-800 (PC26400) 4-4-4-12 Timings
Graphics – XFX Radeon HD-5850 Black Edition (Factory Overclocked)
Motherboard – Gigabyte GA-965P-DS3 rev 3.3
Build Date – April 20, 2007
Prometheus is a multi-purpose PC that was originally built to serve as a gaming and entertainment machine.  It served well in this capacity and played all the hottest titles of the time.  After a couple of years, it took on the server role as well as maintaining its gaming and entertainment duties.  It spent almost all its life paired with a Sharp 46″ HDTV.  It has gone through a long list of operating systems during its lifespan – Windows XP, Vista, 7, 8, 10, CentOS 7, Ubuntu 16.04, 18.04 and 20.04.  While it can still game today, its not the spring chicken it used to be.  Prometheus was converted to a headless dedicated server in 2019 and still goes strong today.  Prometheus used to host the virtual machine that runs this site.  This amazing machine has served well over a decade!  While it has seen parts come and go, the core components (CPU, RAM, Motherboard, Power Supply, etc) were not changed until September 2021.  The only components to have ever failed in its long lived service are a couple of case fans.
And YES, it CAN still run Crysis!
In September 2021, Prometheus, the stalwart former gaming PC that has served for 14 years (as a server for 11 of those years) finally got a major component upgrade.  The "new" components are far from new or bleeding-edge, but are a major bump up from its Core2 Quad and DDR2 RAM…
The new specs:
Processor – Intel Core i5 4590 @3.3GHz (Stock)
RAM – 32GB DDR3 1600MHz
Graphics – Intel Iris 4600 (Integrated)
Motherboard – Asus Q87M-E
The chassis and power supply are the same.  Some of the hard drives were changed and some were added as this hardware opens more options.
Aside from the obvious bump in CPU grunt and max RAM (32GB), I can now utilize the numerous SAS hard drives I have laying around.  This board has a spare PCIe slot that will accommodate my SAS RAID cards.  The newer CPU has better virtualization support, so the Virtual Machine (which runs the webserver and KalistoRO Ragnarok Online server) was noticeably snappier.
This was short-lived however.  While the machine was the same on the outside, it was no longer the Prometheus that served without fail for 14 straight years.  The hardware was reconfigured with additional storage and converted to a Hypervisor named Nautilus.  Prometheus lives on as a Virtual Machine running on Nautilus and still handles our personal files and media.  The VM does have a GPU passed to it and can technically still game!  Though the GPU is for actually transcoding purposes.  In this configuration, Prometheus was relieved of its duties of hosting this site.  Kalisto and its related services were moved to a new (actually NEW) dedicated Hypervisor server which STILL runs from our home.
As for the original Gigabyte board, Core2 Quad CPU, G.Skill RAM combo that served for all those years?  They served again for a short time as a media player in the TV stand in the living room until disaster struck.  One day, I came out to find the board powered, but not running.  It appears that overnight, either the CPU or Motherboard had finally failed.  This last stint brought its total service to just shy of 15 years.  All of that time, the CPU was overclocked and RAM had lowered timings – I had never relaxed the gaming tuning of the hardware even in the dedicated server role.  This makes its steady 15 year service all the more remarkable.